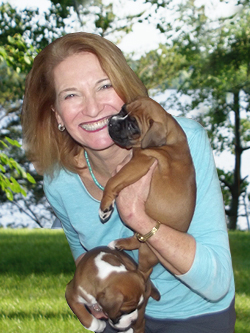 Deborah
Deborah has a passion for raising loving boxer puppies. Her husband and her 40 piano students and their families socialize them from four days of age (after their first vet check) until the new owners pick up their puppies.
Deborah's love for the boxer breed began as a young child as one was always part of her family. She and her boxer's trainer (who eventually achieved her life goal of showing our line at Westminster) showed Dempsey in England for two years. (See dedication picture of Dempsey in front of his ribbons.)
Once Deborah's four daughters were old enough to help, she raised her first litter. Thus, Deborah's passion for making new friends and raising dogs just like Dempsey began.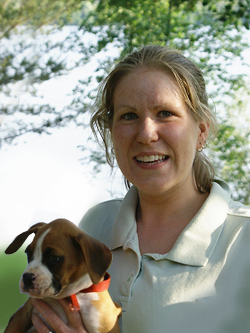 Holly
My husband and I have owned boxers since 2000 and have found them to be fantastic family dogs. We have three young children, and an even-tempered dog is essential! When looking for the perfect boxer, I met Deborah and bought my first puppy from her.
Over time, I have come to know Deborah very well and appreciate her very much as a person. I learned so much from her.
As a mentor, Deborah helped me raise my first litter of boxer puppies. My relationship with her has allowed me to learn more about responsibly raising boxer puppies and striving to better the breed.